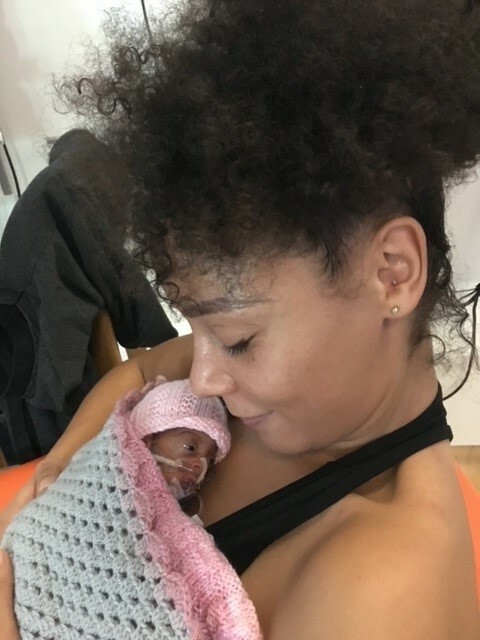 "Hi I'm Alicezia, I gave my mummy a shock when I came early at 24+2wks. Completely unexpected born spontaneously…from the day I was born alongside a fantastic medical team at John Radcliffe…mummy was supported by a superb charity known as SSNAP…
Christine and Kaz became family to my mum whilst she was there alone for 2 long months ….they ensured she could be by my bedside day and night. By providing a nursing chair where mummy would give me kangaroo care, when I was allowed to be touched by her after a week of being incubated. I've had laser surgery on both eyes at 38weeks due to stage 4 ROP…I won't go into detail… (not sure myself) yet SSNAP again were there for mummy and me…I had heart surgery a year after leaving hospital, for a PDA closure. Again I won't go into detail (still a little unsure myself)!!
I'm now 3 full of life and loving it…if it wasn't for this amazing charity supporting mummy and me, we would have struggled to get through…I will be running or in a buggy a 4K around Blenheim palace with my mum and jaypa who has also been there for me and supported me from the time I was born. Alongside lifelong friends that we met on the unit.
I will then be supporting mummy and jaypa every step of the way from the sideline…when they run the Oxford half marathon in October 2023. Over to you mum…."
"We are indebted to SSNAP for their constant support in every way possible from food and goody bags at Zia's bedside, for enabling me to stay at the house SSNAP own at no cost to myself so I was only ever a stones throw from Zia at any given time.
For Christine and kaz's time physically and emotionally. We are eternally grateful to them. So I will run once again for them, my daughter and I and other parents and sick babies in similar circumstances. The Time is not important it's the completion that matters by seeing it through. Just like my daughter did when she left Oxford 2months after birth and saw out her last month in MKGH, before coming home. So very proud.
The charity is so very deserving. This year we will be joined at both events by my mums partner jay….jaypa to Alicezia who has been a great support to both of us….so please give generously."