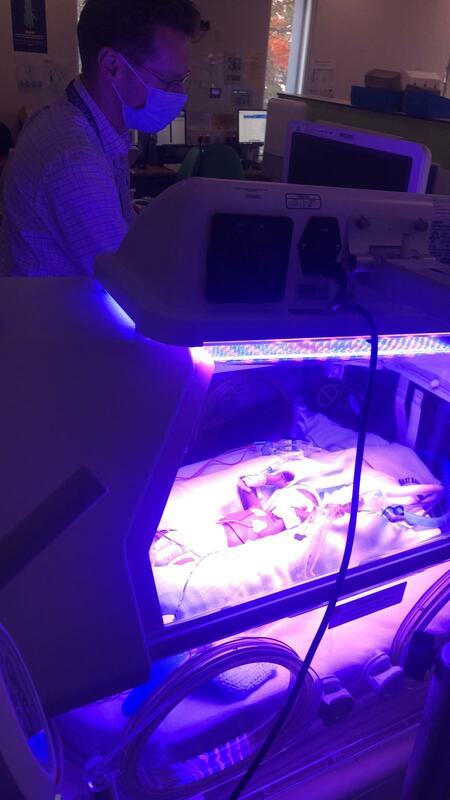 On Sunday 18th October 2020 at just 26 weeks pregnant, Emily and Matt rushed to hospital.
Something wasn't right, and Emily needed urgent attention.

The next day…Alfie was born.

He would spend the next 101 nights in the John Radcliffe.
It was COVID times, so none of Alfie's family could visit.

Mum was by his bedside almost constantly, but even Dad's access was restricted.

There were several sleepless nights throughout his stay, but that is not the only stress for parents of sick and premature babies.

Emily and Matt weren't planning on Alfie arriving until January, and it was only October.

None of the clothes or nappies fit him because he was too small.

They found themselves driving to and from Oxford everyday to see him, spending £100's on fuel.

Their families couldn't support them as COVID restrictions meant they couldn't visit.

This is where SSNAP really helped.

When asked, Emily Wood commented:

''SSNAP helped from the moment we arrived. They did everything possible to look after us.

On our first day they gave us a welcome box with loads of useful things in it, which may sound small, but when you're unexpectedly about to spend 101 days in hospital, little things like your own coffee cup and food vouchers make a huge difference. It also included a hat and blanket for Alfie, and little 'mini boos' which are basically scent squares you switch out between mum and baby so they always know your smell.
They did daily rounds with snacks and were genuinely interested in how we were doing.

Plus, they would always pop back if Alfie was having a bad day and check on us. Most of all, SSNAP are your biggest advocate.

They acted as a middle person between me and the doctors, quietly helping make things happen and letting them know if I was unsure about anything.''

Alfie is now a happy and bouncy toddler who brings joy to everyone he meets! And that is in no small part, thanks to SSNAP and their amazing supporters.
SSNAP have a 7 day a week Family Care Team that provide practical and emotional support to parents at their most vulnerable and anxious times.

They also fund essential equipment, not funded by the NHS, primarily for items that make life easier for parents, including reclining chairs and breast pumps to make new mums more comfortable, and furniture and fittings for a purpose-built Bereavement Suite.

Ultimately SSNAP care for the welfare of babies, parents and staff, to ensure they are in the safest and most comfortable environments they can be, during highly distressing and uncertain times.

All this is possible thanks to their amazing fundraisers and members. If you would like to support this amazing charity, you can become a member from just £5 per month here: