"My name is Cheryl Stone and I live in Witney with my husband Darryl and daughter Amelia 7 and Finley now 3 years old. He was born 2 weeks early on the 16th November 2015. It was a very quick labour and he was born unresponsive. Finley was passed to me for a quick cuddle and got rushed off to be resuscitated which seemed to last forever. I didn't see him then for 16 hours which was the worst 16 hours of my life.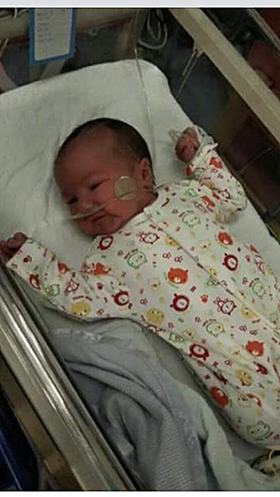 SSNAP were amazing. I was put into a room of my own which I wanted and we went down
to see our son. He was put straight on oxygen in the Intensive Care Unit as he couldn't breathe on his own. They though he may of had an infection so he was put on a course of antibiotics. They took him off the oxygen on Day 2 but he was unable to do it on his own. Four days in Intensive Care seems like forever especially with hardly any sleep but the team were absolutely amazing and I cannot fault the care they gave to me and my family.
We finally got to take him home after four days and it just so happened to be our wedding anniversary! What a great gift!
I chose to do collections for SSNAP and the Intensive Care Unit every year near to Finley's birthday as it just means so much to us and without you guys I don't know where we would be!
I collect throughout the year donations of clothing and knitted items and toys and books for the charity and ICU.
I have started also doing car boots for the Charity and also doing fundraising. It means the world. It gives people chance to understand what the charity does and how important it is to families like myself.
Finley is now a happy and healthy 3.5 year old!"