"Hi, our names are Shaun and Hayley and SSNAP were very much there for us in our time of need. During Hayley's pregnancy we encountered no issues, and everything was rather routine. Hayley very much enjoyed being pregnant and apart from the usual aches and pains there was nothing which could be said apart from it being an enjoyable experience. At the 36 week check up Hayley was measuring slightly larger and we were asked to go to hospital to be assessed, in which they informed us that our baby was approximately 9lb 12. As you'd expect we were somewhat taken back by the doctor's comments and based on their recommendations we opted for an elected C-section on the 12th June, four days before the due date.
The procedure went as planned at Milton Keynes University Hospital and Hayley gave birth to our beautiful baby boy, who in fact turned out to weigh 10lb 5oz! From the moment he was placed on the weighing scales we knew something was wrong. With every breath that he took was accompanied with a 'grunting' sound and his complexion became more purple/bluer. He was rushed off to neonatal before Hayley could even hold him and placed inan incubator where numerous doctors and nurses performed countless tests and assessments. The underlying issue at the time was that his saturation levels were very low, and his body was unable to exchange oxygen and carbon dioxide without medical assistance.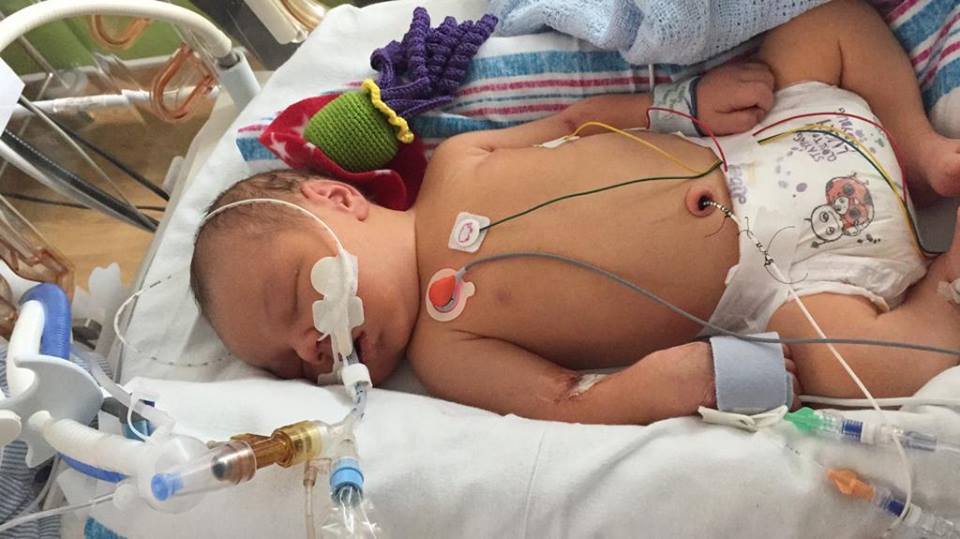 This whole experience had turned into our worst nightmare. Not a single doctor was able to identify the route cause and the fact he was born full term and at such a healthy weight, all seemed to make our son's experience all the more unique. Within 48 hours of being born we were informed that our son had to be transferred to John Radcliffe for urgent care. Of course, as a parent when the doctor walked into our room at 5am to tell Hayley and I the news, we instantly thought that this was the worst possible outcome. It was only as the next two weeks passed, we realised that this was the contrary.During the next two weeks our son's health became a lot worse and we were later informed that at day three and four the doctors were unsure if he would make it.
The level of care that we as a family received from the moment we walked into Blossom Nursery in the intensive care unit to the moment we left was exemplary.
Each on-shift doctor took the time to explain what was being discussed and what were the next steps, to how every nurse went above and beyond their duties to ensure that our son was receiving the best possible care and how SSNAP would come round with drinks and treats to make you feel better but to more importantly let you know that there are people there to help and support you. People who had been through similar experiences themselves and who understand what you are going through, and that allowing time which is the hardest thing to accept is what is needed. Giving time to all the exceptional members of staff to help our son.
Our son is fast approaching one year's old which is a scenario that without the help of SSNAP we could not have of envisaged at our darkest time. He's healthy and well and growing into a right little lad and churning through clothes like they are going out of fashion.Hayley and I are set to wed this September and our son will be there to help walk his Mummy down the aisle. A moment which no one in our family will ever forget and a moment that our family will always be incredibly grateful for. As a token of our gratitude we are offering gifts from SSNAP as wedding favours to all our guests and will be asking all those who attend if they would kindly donate to help support an amazing charity which is SSNAP.
For anybody who maybe reading this and if you're perhaps considering donating then please do. Hopefully you'll never have to experience a situation like we did, and we hope you never do. Take a minute to think of all those families who are going through the most awful times of their lives and please help those people by supporting SSNAP so they can support those who desperately need it, like we did. SSNAP not only help the parents but they also help fund additional training for the doctors and nurses which will help save the lives of many more children in the future."